We didn't know much about this battle before coming here. We had heard various people on our travels say "Custer's last stand". Well now we have seen where Custer had his last stand. This monument is dedicated to remembering the Lakota and Cheyenne Indians fight here to preserve their way of life. And even though the Indians destroyed Custer and the US Army's 7th Calvary in this battle, the Indians knew that soon they would have to conform to the laws about living on lands set aside for them (the lousy land).
This monument is a peaceful place set on the beautiful open lands of Crow Agency, MT.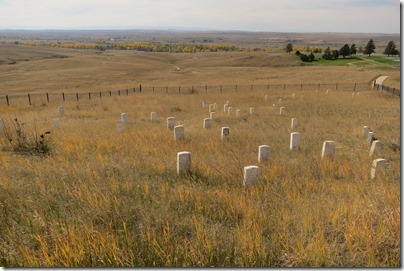 Custer's tombstone is one with the black on it, among the many other US soldiers.
Junior Rangers hard at work.
This was about on hour drive from Billings but well worth the trip.