This is the town where The Sundance Kid got his name. My kids asked who is this Sundance Kid, whose name is all over town and who the campground owner mentioned? I had to explain to them that he is famous for things like... well, let's see... bank robbery, murder, and stealing.
Why is he famous for things like that?
Umm... well... Because he was really good at it.
This small town is very proud that Harry Longabaugh took his name, The Sundance Kid, from their town. At the center of town there is a statue of him and I must have had 3 people tell me not to miss it.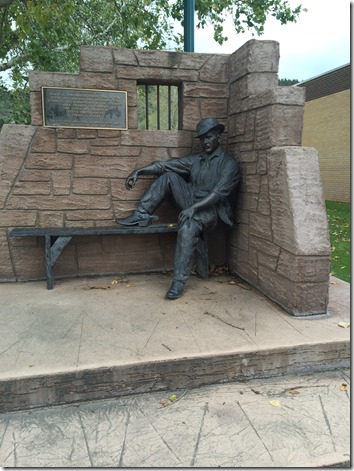 The Crook County Museum (yes, that is the real me of the county) is free, so after we saw the must see statue of The Sundance Kid we headed there. It was a nice museum. The man who runs the museum is a wealth if knowledge on WY history. As I was leaving he was following me out to give more maps and things to do while in Sundance. The only problem is that there isn't much to do in Sundance and everything he recommend was about an hour to 2 hours away. But I appreciated his lively spirit, especially when talking about the history of the west.
What we liked the most about the museum was learning about the Vore Buffalo jump (which was right down the road). Before the Indians had horses they would stampede the buffalo off the edge of a sinkhole. The buffalo either died immediately or were killed by the Indians right after they fell. In these pits are the remains of hundreds of buffalo bones. The Vore Buffalo Jump tours were closed for the season but we did get a glimpse of the pit when riding by. We have this on the list of things to do next time we come around.

If I could change one thing about this museum it would be the height at which they hang their buffalo heads. I hit my head so hard on a low hanging buffalo head, I was seeing stars. We've seen a lot of buffalo in the past few months but I never quite realized how big their heads were until I came face to face with one, literally. In spite of the dreary weather outside, we had a fun day. We also had our first sighting of a magpie. This may be one of the most beautiful birds I have ever seen.