We found it.
This is located in Riverfront Park at the heart of the city of Spokane. We didn't spend too much time at Riverfront Park since by the time we arrived there, there was little daylight left. From what we saw the park seemed to have a nice variety of activities, even though some of the main attractions were closed for the season.
We were disappointed when the gondola ride was closed. But that didn't stop us from creating our own fun, like we have grown accustomed to doing. The city blocks were a big hit for Freya.
In this area of the park the rides were closed and ice rink wasn't quite ready for skating yet. It was a neat little area that we unintentionally wound up exploring in search for a bathroom for the big K. We never did find that bathroom. So next time you are in Spokane stay clear of the wet stop next to the little brown building by the…. oh never mind.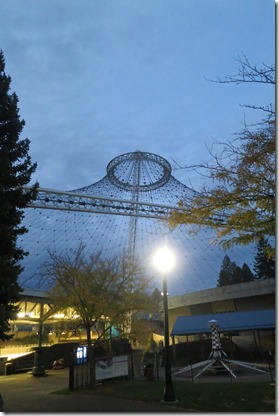 This park is well known for its beautiful waterfalls/rapids and its amazing bridges. By the time we reached the falls we were only able to capture this one bridge by this one small area of the falls. Not far from this bridge was another bridge that was super pretty. We stood on it just as dusk fell and listened to the falling water although we couldn't really see it.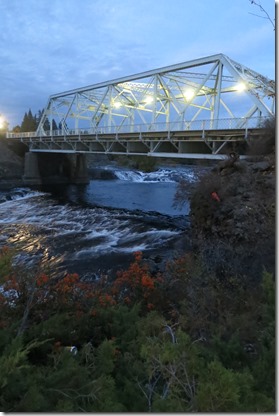 This sign couldn't have come into view at a more perfect time. Freya was having a tantrum in the van about… well, that part is not important nor can I even remember. It was one of those "take cover your life depends on it" kind of tantrums. We had all made an effort to calm her with results ending in scratches and/or random van junk getting hurled at us. But then I saw this sign…pointed it out to her and it was like a switched turned off inside her. Instant joy! I have thought about this sign often since this day and have even considered investing in one for those dire need situations but we all know it never works as good the second time around.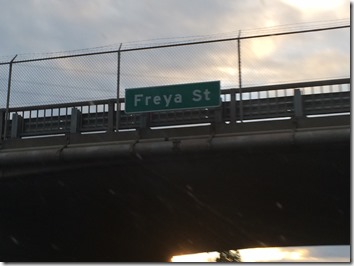 And then we went for ice cream but that is not too note worthy since it seems to be a nightly event. Now there's idea, I travel the country testing out all the ice cream shops I can find. No, all the bakeries I find…yeah that's it!
I'm gonna stop now. Good night!