Makenzie flies her first plane at the EAA AirVenture Museum in Oshkosh, WI. We had a great day at this museum but this was definitely the highlight.
Young Eagles is a program they run at the museum (actually Young Eagles is a world wide program) with the goal to have 1 million kid pilot names recorded in a book by December 2013. The museum surpassed that goal and is now at 1.8 million kids who have hit the skies, Makenzie being one of them. What is so cool is that Makenzie was able to fly this plane for free as part of this program! Let me say that again… FREE!
The process runs smoothly. Sign the waiver, step 1. We happened to be here on a quiet day so our wait time for Makenzie to fly was rather short. I was told that on busier days the wait time could be as long as an hour and a half. When your turn is up the very friendly pilot takes the whole family out to the plane. He then talks a little about the plane itself and then gives a brief explanation of some of the buttons and numbers you see on the dashboard. He explains to Makenzie that she will be steering the plane if she chooses to do so… and she did!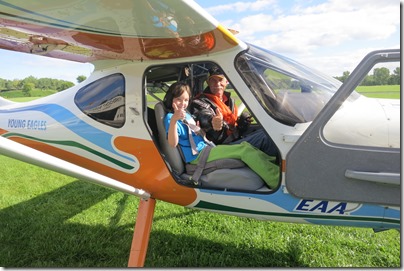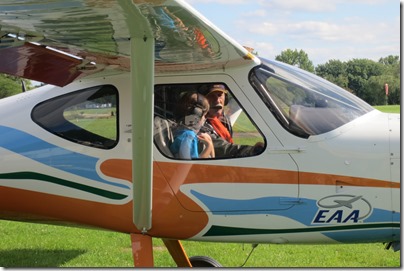 Getting prepared.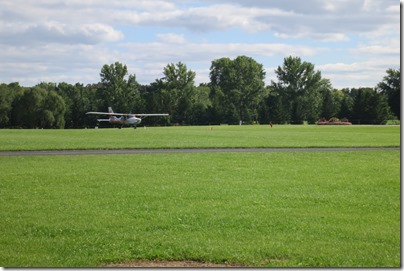 Ready for take off!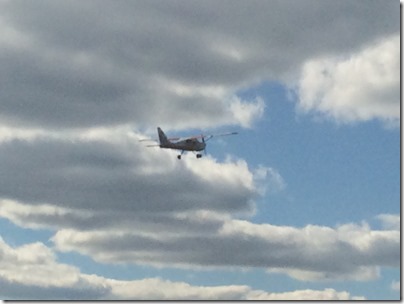 It's blurry but there she is in the sky!
I'm so proud of this girl. She was so nervous but she did it anyway. Because she was the last flight of the day, she got a little extra ride, she had the opportunity to drive the plane to hanger where it would then be parked for the night. Not long after her flight she said, "I want to be pilot!"