What a day? If you ever find yourself in the Black Hills of South Dakota be sure to not to miss these 2 amazing places.
Needles Highway
Give yourself at least an hour to drive the 14 miles of Needles Highway. There are several places you will want to pull over to just take in the view and stand in awe of this fascinating place called the Black Hills. If you are into hiking there are also some awesome trails along the way. All the trails we found were a bit too long for the little one. The scenic highway ends as you pass through a narrow tunnel, in the area called the Needles, with the highlight being the Needles Eye. And although the eye of the needle was really cool, what I liked most was all the little nooks and narrow spaces that were just waiting to be explored. We spent a bit of time in this area.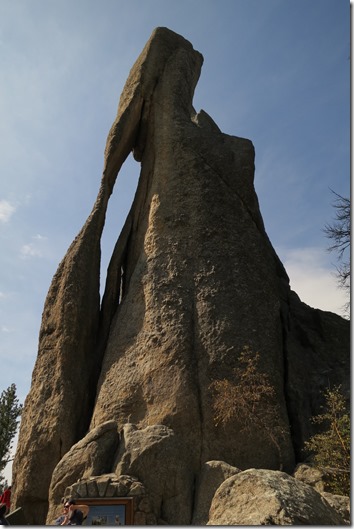 Needles Eye
| | |
| --- | --- |
| | |
| Needles in the distance. | Looking for mica. |
| | |
| The final tunnel. | Exploring the Needles. |
| | |
| | |
Sylvan Lake
My buddy, Jesse, at the laundry mat told us to check out Sylvan Lake. When I was looking at all the things we wanted to explore this week I wasn't sure we would be able to fit in Sylvan Lake. So when we came upon Sylvan Lake by sheer luck, I was psyched. What a beautiful place! It looks like these rock formations are growing right out of the water. It was like nothing I've ever seen before. When a place looks this magical, the mile hike around it is a must! Instead of finding pictures in clouds, we were finding pictures in rock formations during our hike.
I have to quickly make a plug for the Lost Sock (I just love that name) laundry mat. The family that owns this place are great people. I had the pleasure of talking to Jesse, a 19 year old, who helps his mother run the business. He is super friendly and a great resource on local places. The laundry mat gave out free popcorn and lollypops which is great in enticing the kids to help with the laundry. Thanks to Jesse and the Lost Sock to adding to our amazing week in Custer, SD.