How could I have forgotten to mention this fantastic place in Hill City, South Dakota?
We were returning from one last quick evening stop at Mt. Rushmore. Kenzie loved Mt. Rushmore (who doesn't) and she wanted to get back one more time to buy something at the museum shop. When we were leaving someone mentioned stopping for hot chocolate. Sounded like a plan. When we arrived in Hill City most of the shops looked closed, except Mountain Treats. They were just about to close but we caught them in the nick of time.

Well we got our hot chocolate and a whole lot more. This shop is owned by couple, Grandpa Dave and Shelley. This couple…how can I describe them?… are two of the friendliest and the most authentic people I have ever met. You are immediately drawn to Grandpa Dave by his wit and humor. And Shelley makes mean salted caramel fudge. After talking to them for just a few brief moments you are captured by their zeal for life.
The kids learned so much from Grandpa Dave, about kindness and laughter. He also introduced us to the beautiful art work of Bev Doolittle. Check out her work. Her use of horses in her art is truly stunning. This is my favorite: Hide and Seek Composite. Can you see the horses in each one of the squares?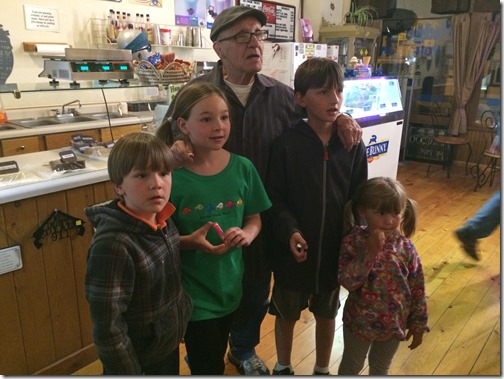 Grandpa Dave also writes a Proverb a day and posts it in the shop on a yellow note pad, nothing fancy. Each morning he reads a Proverb and then writes his spin on it. He shared many with us and we laughed right along with this wonderful couple. What a treat (no pun intended) it was to share some of our last moments in South Dakota at Mountain Treats.
If you ever find yourself in Hill City, SD be sure to stop here, you won't be sorry.