Three reasons why I loved this science center:
1. It was empty. Which was great for us, but I assume not good for the science center.
2. There was something for all 4 kids 6 of us.
3. We saw things here that we hadn't yet seen elsewhere. After stopping at so many science/discovery museums things are all starting to look the same… this wasn't the case here.
The main exhibit here is a T-Rex named Sue. This particular T-Rex is about 90% complete, the most complete T-Rex ever. We aren't much into dinosaurs, so as impressive as this dinosaur was, my kids didn't stop for a second to check it out, especially when they spotted exhibits that involved water.
As a side note, you may notice that the quality of some of these pictures are superb. That is because the day we were here there was also a photography student here. He was taking lots of pictures of Sue and then he asked if he could take some pictures of us and the kids. I said sure and the next day he sent us some of the pictures he took.
Meet Sue.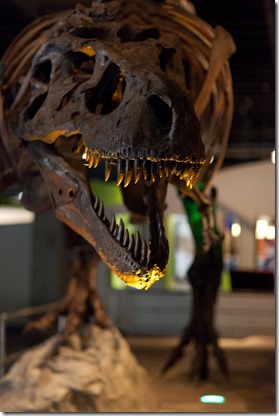 I have to be honest, I'm not sure what they are looking at here but it must have been interesting.
Listening to the radio by biting on the straw.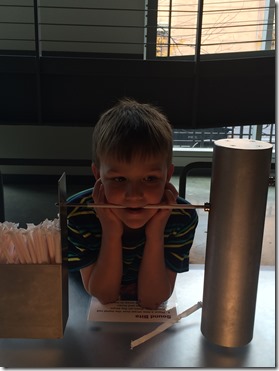 Jeff and Korben spent a lot of time at this tube wall, creating the prefect path for a traveling ball. Between the water exhibits and this wall, it was like Korben had died and went to heaven.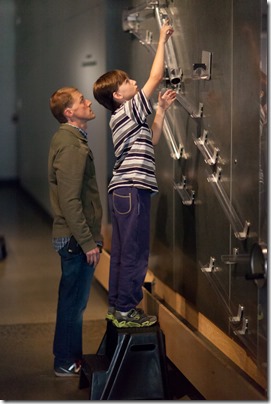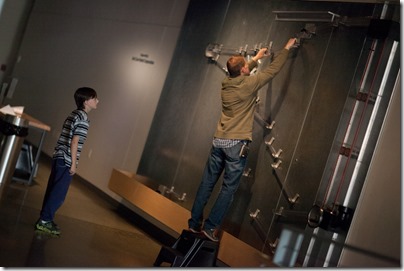 My personal favorite, the paper airplane shooter.
Airplane Construction.
And shoot…
While Jeff and the girls were shooting paper airplanes Koah was creating his own flying object with a paper cup and a fan.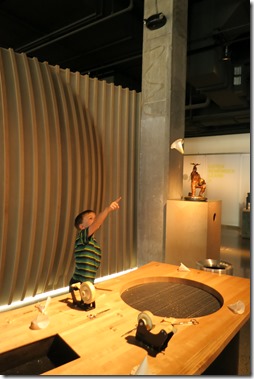 But even better than the airplane shooter was watching Koah's hair stand on its end. For some reason this struck us all as very very funny. Koah placed his hands on this large silver ball while Kenzie turned a crank, creating static electricity. I know I know… it's not nearly as funny for you as it was for us. But you gotta love Koah's face here.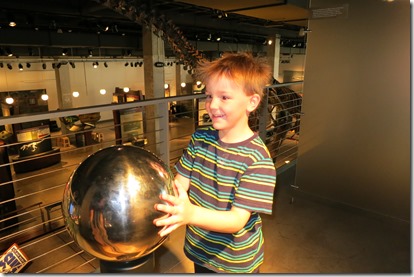 A few other highlights.
As you can see here we had the place to ourselves, which always helps to make for a stress free day (mostly).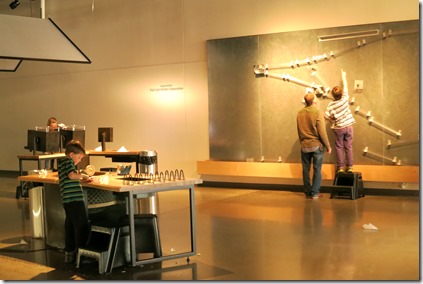 I highly recommend this science center. We spend a good portion of our day here and it was well worth the stop. It is in the heart of downtown Spokane, just steps away from the Spokane public library and only a few blocks to Riverfront Park.