I'm not sure which Montana city I enjoyed more Bozeman or Missoula. Each city has a fun vibe but offers its own unique experience. I am told Bozeman and Missoula are arch enemies, at least in the college football world.
This is the town where I cut about 7 inches of my hair off so I will always remember Missoula for that. I choose a place called the Cowgirl Salon. I wasn't sure what I was going to get from a place with the word cowgirl in it but I hoped for the best. And the Cowgirl Salon delivered with a great cut.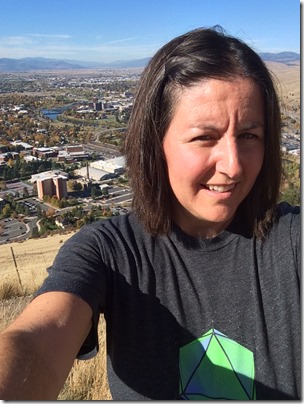 Missoula has a great park on the river front with a large climbing structure. I don't recommend attempting to come here right after a Montana University football game ends. We were at this park twice. Once in the evening (around 7) with one other family and right after the football game. This place was a sea of maroon and white and quite frankly I was feeling a bit out of place.
We headed over to the carousal, which is located directly next to Mayhem Park Dragon Park. The KOA we are staying at gave us free passes to ride the carousal. The neat feature of this carousal is this.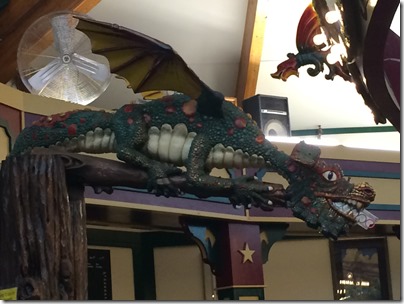 Can you see the rings coming out of the dragons mouth? Each ring is colored, and as you come around (on the second fastest carousal in the US, I know we are talking carousals here) you can reach out and grab a ring. If you grab the golden ring, you win a free ride. Here we are ready for action…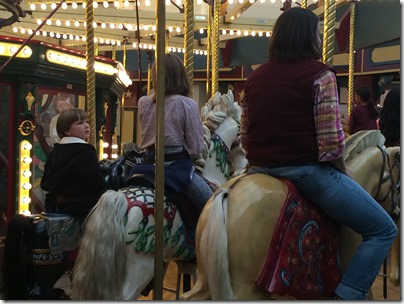 Well, guess who grabbed the golden ring?… yep, that would be me!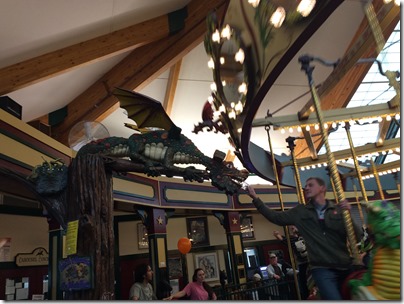 Here is Jeff trying to pull off the same golden ring grab that I performed. He wasn't successful, I guess I have skills at pulling rings out of a dragon's mouth. That must be worth something, right?
We also spent some time at the Barnes & Noble here in Missoula. I point this out because I managed to whip up this cute hat while we were there. And although my model isn't happy, isn't the hat great?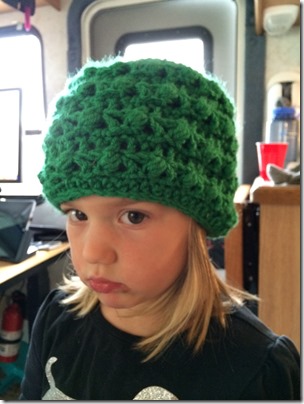 She is happy here though.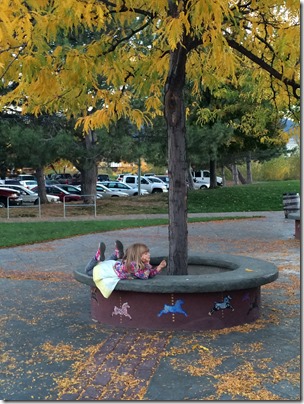 I have to mention the Big Dipper Ice Cream. Every Missoulaian (is that word) told us about this place. I must say they had the most unique ice cream flavors I have ever seen and tasted. The super friendly staff will give you a sample of as many flavors as you ask for but you must ask. The line is always extremely long, go knowing you will wait for a bit. Start talking to some other families on the line (like we did) and you will get to the front in no time. And when you get there try everything, you won't be disappointed. Some of the flavors available were, huckleberry, white mint oreo, rasberry amaretto chip, banana, and eggnog.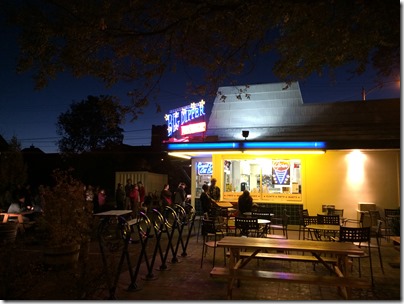 This was a fun day and I've been enjoying Montana way more than I ever expected to. I still can't imagine living in a land lock state. A couple girls at the Cowgirl Salon said that they could never live on a coast. They were telling me that the fear of earthquakes on the west coast and hurricanes on the east coast keep them living in Montana where there are no real fears of natural disasters. She then mentioned that they get an average of 34 feet of snow each winter and for me, that is a natural disaster.