We went back and forth about going to Mammoth Site. We heard great things about it but for some reason we had it in our heads that we were leaving Custer, South Dakota on Monday. It was now Monday and I was beginning to tie up some loose ends to prepare for a travel day. While finishing up a few last loads off clothes at the laundry mat the employee made a point to tell me not to miss Mammoth Site. I didn't ask about it, she just offered the information. She said that even as a local she has been there 18 times because the site is always changing and that if she had to pick one thing to tell people to see in South Dakota it was this. That sealed the deal for me, we must go to this active dig site.
I don't always take peoples recommendations but in this case I'm sure glad we did. Mammoth Site was unbelievable! In 1974 a developer bought the land that is now Mammoth Site to put up a housing development. As the excavation began for the homes, large bones were discovered. Initially the developers thought there were just a few and began to keep digging. The more they dug the more they uncovered. They decided to stop the housing project and had paleontologists come investigate the site further. The paleontologists planned to be there for 3 days thinking that was plenty of time to complete the research but it didn't take long for them to realize this was more than just a few fossils. The developer sold the property (for the original purchase price) to a non-profit organization set up just for the Mammoth site. Several years later an entire building is on top of the dig site allowing visitors to see the actual area where paleontologists continue to uncover the fossils or Mammoths and other animals. The active dig today still has hundreds of feet of soil waiting to be uncovered. Each time you visit the dig site will have changed and who knows what will be unearthed.
Mammoth site was formed millions of years ago when a sink hole was created here as a result of a collapsing cave. As it filled with water, it became a drinking hole for the animals in the area. The problem was many of them slipped in and couldn't get out, in particular the mammoths which are not as agile animals for climbing up out of the steep walls. The mammoths would then either drown or as they struggled to get out, a short faced bear had them for dinner.
What was cool was that many of the larger bones and tusks were left in the original spots where they were found. This was so fascinating and we were all glad we decided to stay an extra day South Dakota for this awesome place.
The sign in the first picture reads; Mammoth Pelvis. The walkways are build to be moved around easily, as exploration continues. The large area in the middle of the last picture has yet to be touched by paleontologists.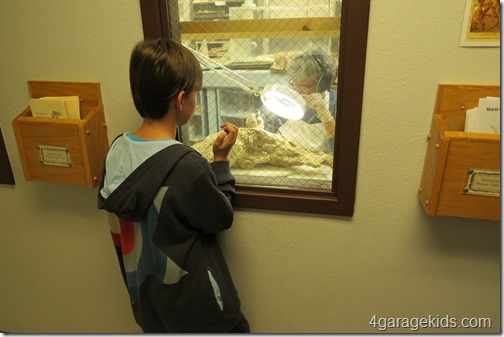 Taking it all in…