I have to be honest, as much as I love rides, I'm not of big fan of amusement parks (mainly cause my kids aren't). But this place is just cool and so worth the stop. Knoebel's rides work with tickets so the fact that I didn't have to pay an admission fee was great. Staying at the campground is great because you can walk back and forth to your campsite for lunch/dinner or just a break.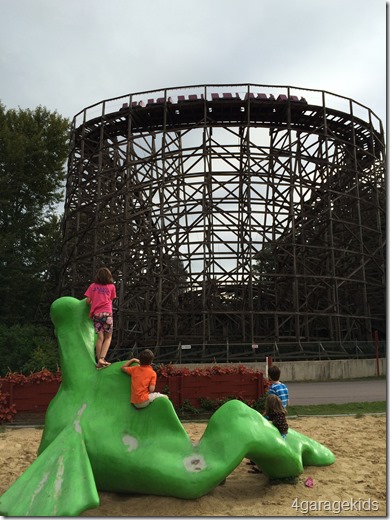 They all watched but none would partake in The Twister.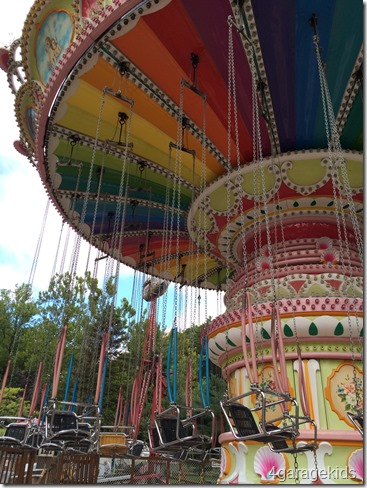 I happen to like this ride, the Italian Trapeze. This ride reminds of the day my late grandfather took me to Coney Island for the first time. This was the only ride I would go on.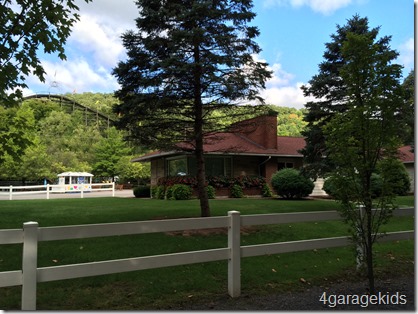 This house is in the middle of the park. And if you are rushing you will miss it. When I pointed out the house to the kids, Korben said, "If I lived there I would make a lot of money at a garage sale." (He only made $4 at the garage sale we had a few weeks ago.)
Because there is no admission fee and we stayed at the campground we were able to roam around the park before it opened at 11am. I think my kids enjoyed the hustle and bustle of watching the staff set up just as much as they enjoyed the park when it was open. We scoped out all the rides we wanted to go on and then went back to camp and planned out our day. It worked beautifully to have a written plan of what was important for each of us. I have one child in particular who likes to have a very clear plan so the fact that we were able to see the entire park first and then write a plan was perfect.
And I have to mention the staff. These people are the friendliest staff I have ever encountered. I know, I come from New Jersey so it doesn't take much. Really though, we must have looked lost because a staff member approached us and asked us if we needed some assistance. After asking for directions to the bumper cars, he then preceded to escort us to them.