We ventured out to this park late in the day. It was the same day that we had hiked at Mirror Lake SP. Now though, the weather was changing, a cold front was moving through and the rain began to fall. But I was on a mission to find Balanced Rock at Devil's Lake, although at this point the kids weren't quite as enthusiastic as me. When the trail we were on proved to be the wrong one to take us to Balanced Rock the complaining started as did more rain. I wasn't sure if it was worth it to push forth but based on the recommendation from the ranger at Mirror Lake, we decided to press on. And, in time, we did find the Balanced Rock trail. I did need to persuade the kids to get out of the van and just give it a try. Well, the second they hit the rocky staircase they were off and there were a few times I had trouble keeping up with them, especially Koah. And it turned out that we were so focused on our hike that we completely missed Balanced Rock. It's a good thing Jeff and Korben were a good distance behind us because when they caught up to us, they were the ones to tell us that we were well passed the rock.
You will notice in the pictures that Freya is bare foot and Koah is in flip flops. I do not recommend this. But if I had to choose one over the other I would choose the bare feet. Turns out that flip flops and rocky staircases don't mix well. Koah slipped hard and split his gum on the edge of one of the rocks. While he was biting down on a paper towel to stop the bleeding, he was mumbling "I want to keep going, I want to keep going!"
I would say that this cold rainy afternoon turned out to be pretty incredible.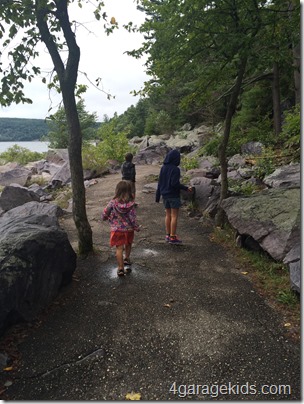 The wrong trail..
Still the wrong trail… but all smiles for the moment.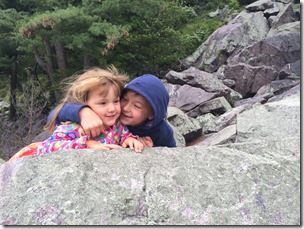 My girls.. on the wrong trail!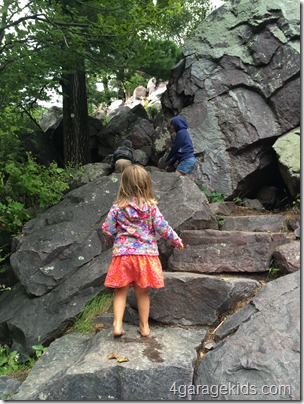 Found it!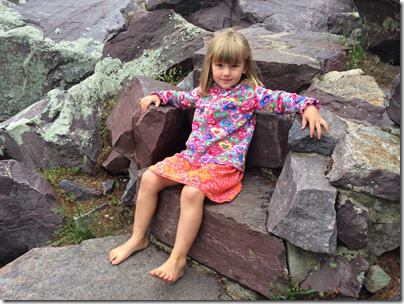 A rest at a stair chair… as we called it.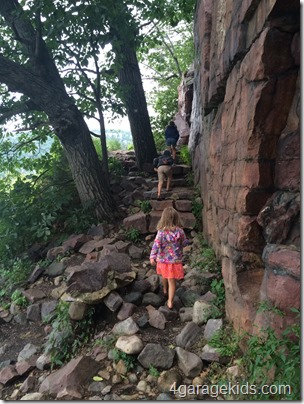 I'm not sure if we were already passed the rock at this point.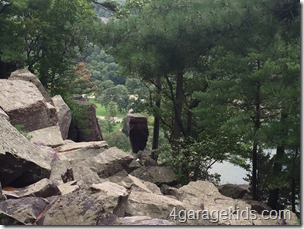 This is the Balanced Rock in the distance. It was difficult to photograph based on it's position but really was quite impressive in person. Honesty, the entire hike was amazing, even in the mist. And all 4 kids made it all the way up and back on their own… even in flip flops and bare feet!