When you've been on the road for 5 weeks and have seen many sites of this amazing country its hard to pick a favorite place/park/state. But I have to say this place lands in my top 10 favorite spots so far.
It took us awhile to find this place, confusing Cascade Spring with Cascade Falls.
But when we did finally find the spot marked Cascade Falls the gate to the park area was closed. We were a little reluctant to park and slip under the gate to go anyway. But we had just watched a group of Native Americans slip under the gate and continue down the path so I thought if they could do it why can't we. I'm so glad we made the decision to go.
For some reason I had in my head that this was a natural hot spring with water temps in the 80s. It is a natural spring but it is not hot. And it's good thing it wasn't hot because the chilly water was rather refreshing on this 100 degree September day in South Dakota.
There was a nice little area for Freya to swim in and then an area off the rocks where the water is approximately 10 feet deep. I took the first dive and kids followed in time, along with another family that had joined us.
Sitting at the picnic area at Cascade Falls you can't see or hear this water. If you didn't already know it was there you might miss it.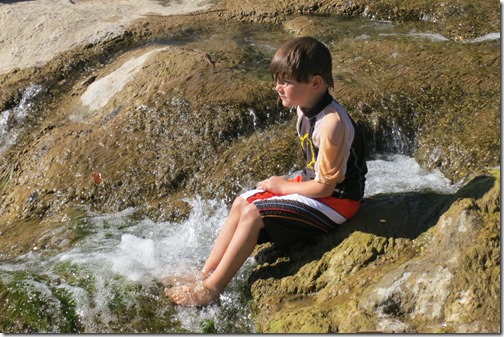 This place is like a hidden gem. And we couldn't have picked a more perfect day to come. I highly recommend Cascade Falls if you are in Hot Springs, SD… and it's free and we just love free!