The 3 remaining museums that I haven't touched on yet.
Buffalo Bill Museum
I have to be honest, I didn't know much about Buffalo Bill Cody. This museum offers you everything you could possibly ever want to know about him. If one thing was clear it was that he sure did kill a lot of buffalo… hence the name Buffalo Bill. His life was eventful ranging from a meat supplier to a Pony Express rider to a show man to a hotel owner (the very thing that lead to his bankruptcy). As a side note, there was a time in history where 600 buffalo remained in this country. They almost became extinct because they were either being killed for meat (like Buffalo Bill did) or killed to force Native American tribes move.
My kids seemed to like the game the best here.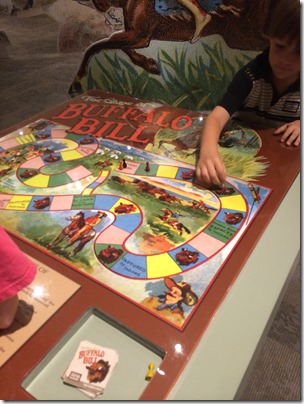 Draper Museum of Natural History
The design of this museum was amazing. It is basically a spiral that works its way through time around this map on the floor.
It gives an interactive account of the changes in western land and of the animals who call this place their home. The design along with the surrounding exhibits transported us through a journey of the west. The information was clear and simplified so that as you walked through it just all came together and made sense.
The question that was asked here, What does the wilderness mean to you? This is Makenzie's response. These responses get posted on a board for others to read.
Plains Indians Museum
When you enter this museum it feels as though you have entered a different world. I've always been interested in Native American history and I've learned so much more on this journey across the country. There were many areas here where you could sit and reflect on our country's Native American history . I marveled at the beautiful bead work and sat here for a bit to listen to a day in the life of a Plains Indian (while the kids pretended to be buffalo).
We also learned a lot about this brave woman throughout our travels.