This museum is 5 museums under one roof. It consists of the Whitney Western Art Museum, Cody Firearms Museum, Draper Natural History Museum, Buffalo Bill Museum, and the Plains Indian Museum. In addition there is also a raptor program with live birds of prey such as hawks and falcons that can no longer survive in the wild by themselves. Good thing the admission price included entrance for 2 consecutive days because you really need 2 (or more) days to see everything this museum has to offer. It's impossible to pick a favorite spot, as each area offers it's own unique experience.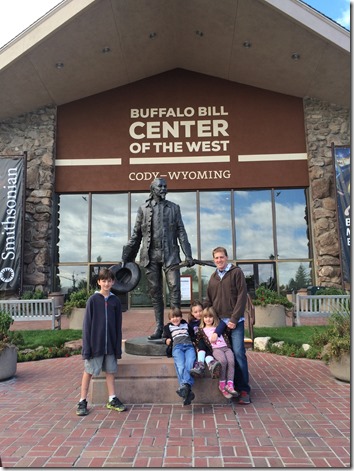 Whitney Western Art Museum

Although difficult, if I had to pick a favorite museum it would have to be the Whitney Art Museum. This museum offered a beautiful variety of art. What struck me most here was the paintings that I originally thought were photographs. This painting of a rattlesnake was one of my favorites.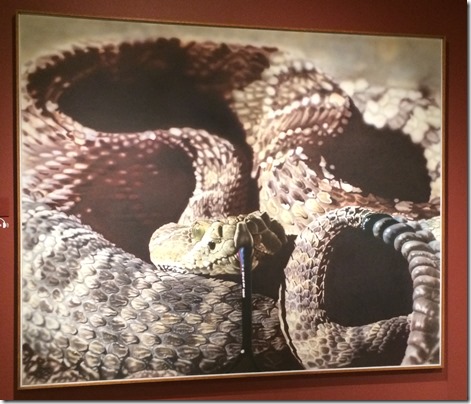 The art museum also offered an audio tour on about 20 of the paintings/sculptures. The kids (I had the 3 younger ones with me today) were anxious to do this… I saw disaster in my head… broken audio equipment or worse yet cracked sculptures, fallen paintings. I finally conceded hoping, praying that the novelty of wearing headphones and playing with the controller would wear off quickly… boy did they prove me wrong. Each of them went from painting to painting listening from start to finish the details about the artist and their work. Quite frankly I couldn't believe it; so I quickly grabbed a head set for myself and found that I was also mesmerized by the information and details given. We wound up spending most of our second day here.
They were even listening while doing their own artwork here, with this view as inspiration.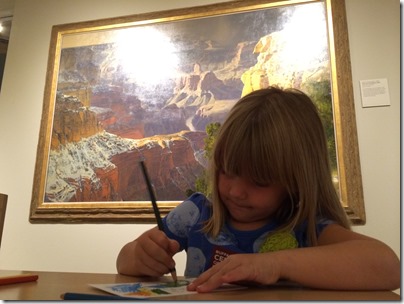 Hard work for a 4 year old.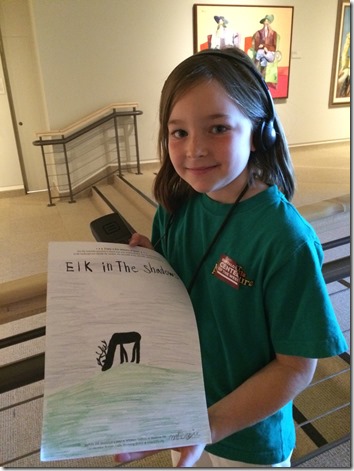 "Elk in the Shadows" by Makenzie
Cody Firearms Museum
I'm not a fan of guns…period… which sounded funny to a couple we met in a campground. "You mean you can't buy a gun in Walmart in New Jersey?" Umm…no! This was the second time I was asked this question.
And although many of the guns all looked the same to me, I was impressed by the wood carvings and metal carvings in some of them. The detail and intricate designs must have taken these artists many long hours to complete. The art piece of the guns were really quite beautiful to observe.
But there was something even better at this museum and hands down the kids favorite part of the firearm museum.
The shooting range… the PRETEND shooting range. Rifles and shot guns!
After a few tips from Dad they didn't do too badly.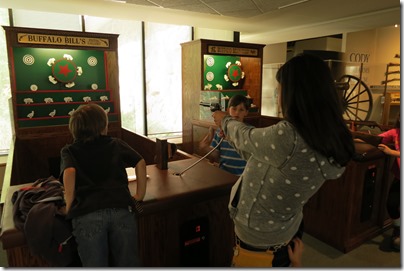 Watch out!!
Raptors
The raptors we learned about and watched; a great horned owl named Teasdale, a red tailed hawk, a turkey vulture, and the American kestrel falcon. These birds have been rescued from the wild and can no longer survive on their own in the wild mostly due to a prior injury. This is a great way to inform the public about these birds while also getting to see the real thing. We really enjoyed this program.