After seeing approximately100 billboards for Wall Drug the only thing left to do was to see what this place was all about. With billboards reading, "Come see the T-Rex", "5 cent coffee", "free ice water", "homemade ice cream", and a hundred other things we figured it was worth a "quick" look. And a quote from their website said, "Free Admission to this 76,000 square foot wonderland of free attractions!" We were curious.
Wall Drug is more like a department store. It takes up about a block of the small town of Wall, SD. It really is the only reason people stop in Wall. The hundreds of billboards has been a great marketing tool that keep tourists curious and willing to make the stop. I'm not sorry we went but it's one of those places that I can't seem to get my kids out of. There was always more "stuff" to look at and just one more room we hadn't explored yet. Someone told me to give the kids $20 each and let them have at it in this place. Keep in mind this was coming from a person with one adult child. I said $5 sounds like a more appropriate amount to me.
The story of how it all began is a sweet one. This is how the story ends on their website, "Free Ice Water. It brought us Husteads (Wall Drug owners) a long way and it taught me my greatest lesson, and that's that there's absolutely no place on God's earth that's Godforsaken. No matter where you live, you can succeed, because wherever you are, you can reach out to other people with something that they need!" You can read their story here, http://www.walldrug.com/t-history.aspx.
We did all have 5 cent coffee (that tasted like water), a delicious homemade donut (none of that Dunkin' Donuts crap), and of course a cup of ice water. How could we not?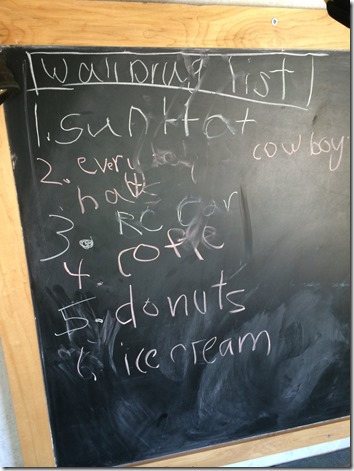 The list the kids made before we went to Wall Drug.
Coffee all around when it's 5 cents.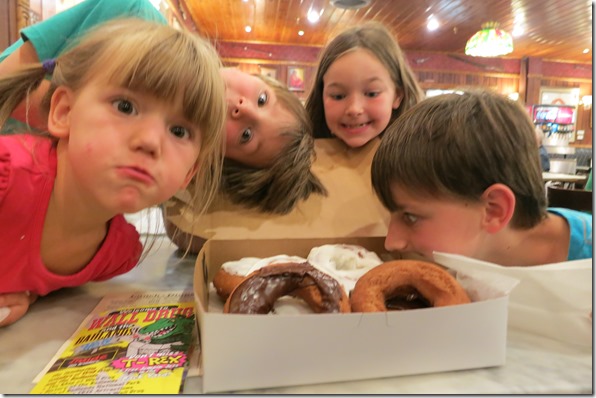 Donuts!!
Shopping, ice water, and the history of Wall Drug
We waited 12 minutes. Apparently the T-Rex wasn't hungry today.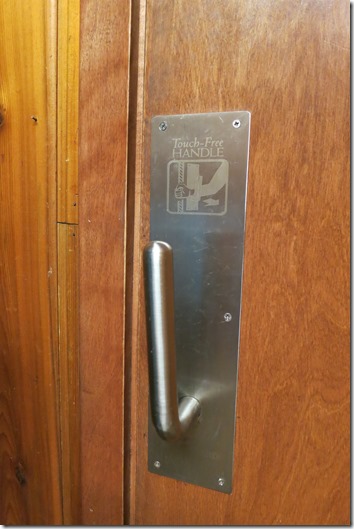 Aside from the donuts this is what I was most excited about. If you know, me then you know my phobia of public restroom door handles. This is a beautiful thing…. touch-free handle!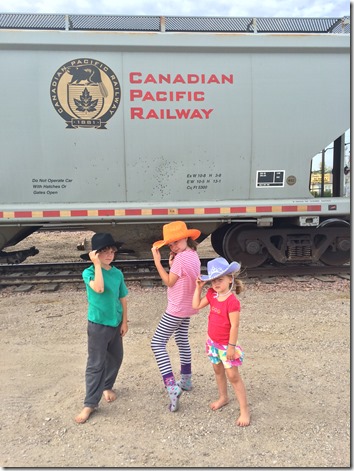 We didn't leave empty handed. Now that we are in the west, what better to purchase than a few cowboy/cowgirl hats, except for Korben who refused.