I was in search of a grocery store today. We were in desperate need of fresh veggies and fruit. Our location here in MI is a little remote, especially compared to what I'm used to (a Shoprite and Home Depot about 2 miles away). I found this place up the road a bit and hoped that I could score some produce for a salad. I knew this place sold meat… I did see the cow ,pig, and the chicken out front. But all 3 animals were happy, why?… because they were alive, well sort of they were really plastic statues! Now, why would a meat market place statues of animals alive in the front?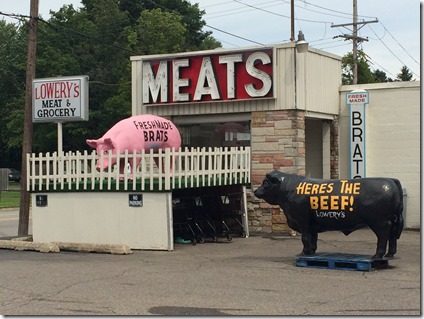 The first thing I see, when I go in, is an employee shooing gnats off the half rotten bananas. I moved on passed the bananas and turned the corner. I quickly realized that people don't come here for produce, the locals only come for meat, and meat only. I have never in life seen this much meat nor have I ever heard of the various kinds of meat. I grabbed a number because it seemed like the thing to do, not really having a clue what I was going to buy. The place was packed so I waited a long time for my number to be called. After a brief chat with the fellow helping me I left with 10lbs of chicken, 3lbs ground beef, and 8 of their famous brats. Jeff was one happy man when I returned home!!
Now about the free hats. We had met a couple last night while doing our laundry who loved that we were traveling while schooling our children. In their words, "You are giving your kids the best education possible." John and Betty invited the kids and I over to their camp site the next morning. One of John's hobbies is knitting hats on a hat board. He had 2 containers of knitted hats and asked us each to pick one. Thank you John and Betty for 6 of your awesome hats. We are going to need them when we reach Yellowstone!