This is the big M on the hill at Montana University.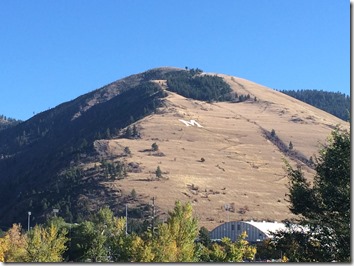 After 11 tough switchbacks we did manage to make it to the top to realize just how big the M really is. The short answer, it's really big. It was about 75 degrees and sunny which made for a spectacular view as well as a whole lot of sweat, and a little bit of complaining. I never really imagined that we would be complaining about heat in Montana in mid October.
And as per usual this guy was the first to the top. Man o man this kid can move! It's one of the things I admire about him, his determination to finish what he has started, no looking back.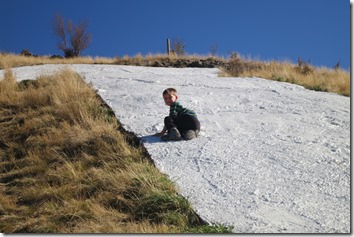 And here are the girls, we made it, in our time, closing in at the end.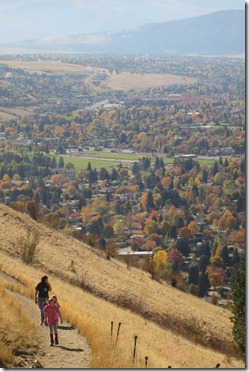 I believe this was the point in time where Jeff felt the need to explain to the boys the importance of not throwing rocks down a mountain where many people are hiking. It was also the same point in time when I was hit by a rock. Lesson learned!
Even with this beautiful view the most impressive part of the hike for Korben was the aerial view of the Montana University football stadium, which I found quite impressive too.
Here is Jeff trying to make a plug for Twilio, if you can read his t-shirt.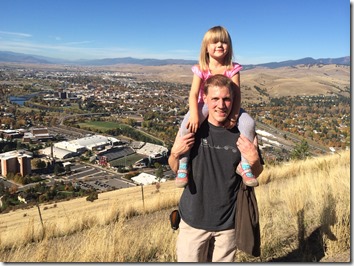 But what goes up…… and going down is always harder.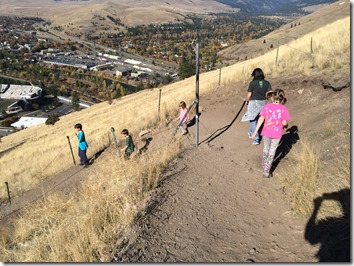 Till next time Missoula, it's been fun!