The 45th parallel is the border of Montana and Wyoming. The owner of the campground in Bozeman told us about a swimming hole found directly on the border. We were looking for this spot before we entered Yellowstone but came to realize the border is found inside the park. We didn't see anything clearly marked at the border so we continued on.
Reluctantly I asked the ranger at the visitors center if she knew of this place. She did and offered us a small slip of paper with the directions to the spot. I'm not sure she would have offered us this information if I hadn't first asked about it. Because in all the time she was telling us about things to do in the Mammoth area not once did she mention this spot.
We followed the directions and found the Boiling River. A quick change into bathing suits in the van and we were off down the trail, anxiously in search of this swimming treasure.
The Boiling River is where Mammoth Hot Springs meets the Gardiner River. And where hot water meets cold, a natural hot tub is formed. And where the hot tubs form people pile up rocks to mostly enclose this magical water. I felt like I had just found a piece of heaven when we came upon this. This natural sanctuary was just as relaxing as it was invigorating.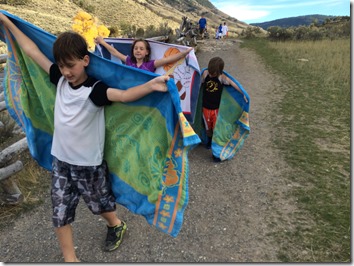 This was a special day for our family and what better way to end our time at Yellowstone! So it goes that my family and I, on October 14th, went swimming on the 45th parallel.